More about the History of Mikonos




When exploring the history of Mikonos town it is difficult to find an accurate beginning as its development is richly entwined with fact and legend dating back thousands of years. If we consider it's place in ancient Greek mythology it is said both Hercules and Poseidon had a hand in destroying some of the Giants that opposed Zeus on this very island. Later, as the story goes, the island was named in honor of Apollo's grandson Mykons. During these ancient times, Mikonos, due to its proximity to Delos, which was then highly populated, became very important as a supply island. The short 2-kilometer distance between the islands was frequently traveled. For religious reasons it was said that no one should be allowed to be born or die on Delos. If this were true and this culture center so sacred, it may suggest that Mikonos had its roots as a vacation island long before modern times.

From an archeological point of view the Ionians were found to have settled on Mikonos town in the early part of the 11th century BC but recent discoveries uncovered remnants from the Neolithic Kares tribe dating back to as far as 3000BC.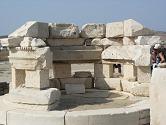 As the island of Delos began to develop as a sacred center, Myconos was swept along with the influences of the different people who would come to control the region in the years to come. The Phoenicians, Macedonians and Athenians left their mark but it was not until the coming of Alexander the Great the fate of Myconos took a turn for the better by becoming a commercial center for agriculture and maritime trade. High quality clay deposits also improved the island's importance, as ceramic containers were the best means of preserving and exporting goods during this ancient time.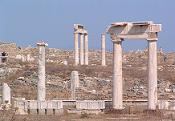 Due to its geographic location as a crossroads for shipping and it's close proximity to Delos, the island's future continued to flourish reaching a state of enormous wealth during the time of Roman occupation and the reign of Augustus Caesar. During the Middle Ages Myconos fell under the rule of the Venetians and in the years that followed found themselves to be victimized by the Saracens and latter the Turks who dominated the area from the 14th century. At this time the slave trade was common and thousands of islanders were abducted. The Greek War of Independence, which ended with its liberation from the Turks in 1830, spawned the Mykonian heroine Manto Mavroyenous who rallied the island's people and defeated a Turkish onslaught in 1822.

Starting as early as ancient times, the cycladic islands as well as the rest of the Mediterranean sea had become famous as a natural breading ground for piracy. The island of Mykonos received its fair share of buccaneer influence, which lasted right up until the beginning of the 19th century.

With the coming of steamships also came the first signs of modern day tourism. World War II quickly put an end to this as Mykonos while experiencing German occupation suffered greatly through starvation. It took until the mid 50's for tourism to rise again. Due to the islands unique architecture, relative seclusion and hospitality it soon became a haven for the rich and famous.

Today Mikonos enjoys a success unparalleled in its history by having become one of the worlds most famous vacation islands


SOURCE :
www.greece-ferries.com
By Athena Lamberis
MYKONOS GUIDE

Welcome to the "windy" and most popular destination of the Greek Islands. Infamous for its nude beaches, crazy nightlife and gay-friendly hot spots, Myconos is an island made for everyone! Whether you are a bohemian backpacker or posh after-hours club hopper, you will find every type of character loving life in Myconos. MYCONOS is a white-washed cubic maze of madness mixed with the tranquillity of the beautiful blue sea. Just think of a Grecian Manhattan during the high seasons (April to Oct.) with every walk of life strolling around the Hora (Mykonos Town). But know that Mykonos has the same nightlife prices as London, New York and Stolkholm! Save up your Euros in Athens before you catch the ferry to the windmills of Mykonos.


Little Venice
"Even though Mikonos is the premiere gay destination of the Mediterranean you don't have to be gay to go to Mikonos and have a great time. There are tons of heterosexual singles there too. Some may disagree, but I know there are far more straight people than Gay on Mikonos but all co-existing peacefully and with tolerance. Mikonos is a great place for singles of all persuasions to mix, and also a wonderful island in general." From Greek Islands Schedules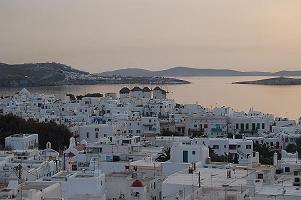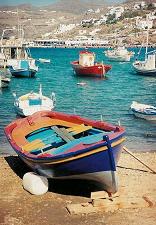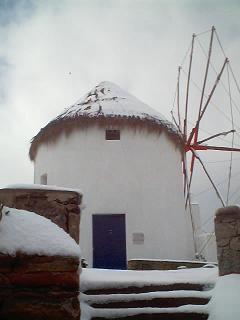 How to Get There
Most travellers start their voyage to Mikonos from Athens either by plane or ferry. There are between 3 and 16 flights per day (duration: 40 minutes) from Athens with domestic airlines ranging in price according to season. Note: flying to Mykonos is a reliable option because ferries often are cancelled due to windy weather! But allow extra time, even when flying, 2 days or possibly more, because of the Meltemi Winds in July and August. If the flight back to your home country or your next destination is able to take off and you miss it, you may just be stuck in Mykonos - which isn't all that bad. From Pireaus (Athens), ferries leave 3 per day in the summer and daily in the winter (they also stop in Andros or Tinos. Duration: about 6 hours. Price: 18-28 Euros one way. There are also Hydrofoil/Catamaran ferries that cost about 40 Euros one way, but have high wind restrictions (don't take them if you get seasick easily!!) From Rafina, there are also ferry boats, twice daily in summer, daily in the winter. From Mikonos you can visit some of the Aegean islands including Crete, Rhodes, Ios, Samos, Mitilini, Santorini, and Iraklio. Also, consider hopping to Turkey from Mikonos via Rhodes or Samos. How to Get Around
Depending on where you are staying in Myconos, on the popular beaches or in town, there is a great bus system and enough taxis to take you around. You can also rent cars, 4-wheelers and motoscooters. The roads in Mikonos wind around the rocky terrain and are narrow to many foreigners. Travel time from Paradise Beach to Hora is about 20-25 minutes, so driving a motoscooter into town after the beach day partying and drinking has brought tourist vehicle accident fatalities to unfortunate high numbers. The best way to get around the Hora is by foot. Get lost in the cubic white maze and narrow walkways of town adorned with beautiful balconies and flowers hanging from the top.
Local Services
Along the harbour, there are Alpha, Ergo and many other banks situated near each other. There are also private doctors, a small hospital and medical clinics in the Hora. Tourist offices are found in many of the narrow pathways of town and three major internet cafes, one by the bus station, harbour, and by the windmills.
Local Attractions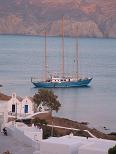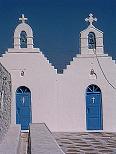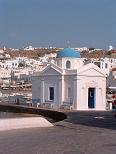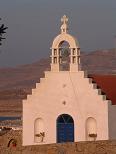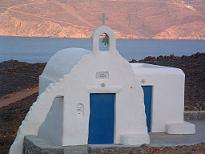 Besides the 400 small white-washed chapels that cover Mikonos, there are plenty of local attractions to visit. The most popular destination is the tiny island of Delos, former ancient capital of the Aegean and only a 30 minute water-taxi ride from Hora. The most famous attraction is the four windmills, Kato Myli, situated along the coast of Hora, overlooking Little Venice. This is a great spot for the Mykonos sunsets and captures the essence of the island. Visit the Archaeological museum near Polykandrioti and the white fortress near Little Venice for a classic postcard picture! Things to Do


Paradise Beach

MIKONOS caters to a diverse crowd of people so there is always something to do for everyone. The most common past time is to go to the beaches! The most lively beaches are Paradise and Super Paradise Beach. There is chill lounge music from 10 to 4 p.m. and the whistles and bass kick in when the beach parties and Sasa the MC start at Tropicana Beach Bar-Paradise Beach at 5 p.m. and go on after the sun sets. Psarou Beach is a relaxed spot with great swimming, a taverna, massages under the trees and handmade jewelry vendors. Panoramos beach is great for windsurfing. Platis Gialos Beach has hotels and water sports. Ornos beach has many restaurants/ bars. Elia is lively among Greek tourists and Agios Sostis is the beach for total privacy. These are just some of the 20 beaches that Mykonos has to offer. Visit all of them if you can! If beaches aren't your bag, there are wonderful hidden treasures and maze paths to get lost in Hora. Find your favorite sunset spot along Little Venice or sample gyros pitas from the many little pita take-aways. Visit the day/night bar cafes in Little Venice like Katerina's Bar, Piano Bar and Galleraki. Shopping in Mykonos is wonderful and can take up days of your stay there. Stores range from designer clothes from Michael Stars and Diesel to local store owners with Thai fashion and products or handmade Greek lace.
Places to Eat, Drink, and Stay at MYKONOS Island
Mikonos is a very expensive cosmopolitan island. You can have 2 Euro gyros pita dinners or dine at restaurants that can cost up to 70 Euros or more. The good thing is that you have that option to budget or splurge! To Eat: The best reasonable dinner spot in Hora (MYCONOS TOWN) is Lotus Resturant on Matogianni St. There are about 10 tables set back under an ivy and flower canopy and serves delicious homemade Greek delights. Interni is a white beautiful restaurant/bar that has a tranquil pillow and flowing fabric entrance walkway down to the outdoor restaurant. Jimmy's is a popular gyros pita place situated in the center fork of Hora and has under-5 Euro options. La Busola is an Italian restaurant with wonderful seafood pasta and pizza in Lakka Square. Alefkandra in Little Venice has wonderful seafood and reasonable prices. Piccolo is a sandwich/bakery shop with delicious gourmet sandwiches. In Belvedere hotel, there is Nobu Matsuhisa, famous for its quality sushi around the world. Belli Fratelli near the bus station makes fresh crepes and has wonderful frappes. In Little Venice, there are wonderful cafes to snack on appetizers and sip cool drinks. Party to Mikonos: Most popular among young and singles is Skandanavian Bar in Hora(mikonos town). Cheaper drinks and upstairs dance floor. Caprice is a classy bar in Little Venice. Mykonos Bar is just across from Caprice that plays mainstream and Greek pop music. Remezzo along the harbour is a perfect bar to chill and dance with a diverse crowd. Anchor Bar has great eclectic house music and comfy couches. Bolero has good hip-hop nights and global house music in mykonos town . Pierros is the most popular gay bar with bouncing music, two levels and late night venues. Astra is a very sheek bar with outdoor seating and indoor dance floor. Cavo Paradiso is the ultimate weekend club where the party starts at 6am located on a cliff of Paradise Beach. Big name DJs like Sasha, Carl Cox and Deep Dish come and spin during June, July and August. Space is a popular dance club in Lakka Square. Yacht Club is an after hours bar/club situated on the old harbour.
Streets of Mikonos TOWN (Hora)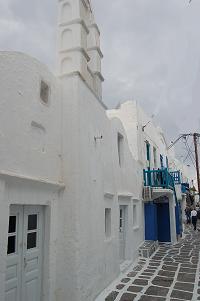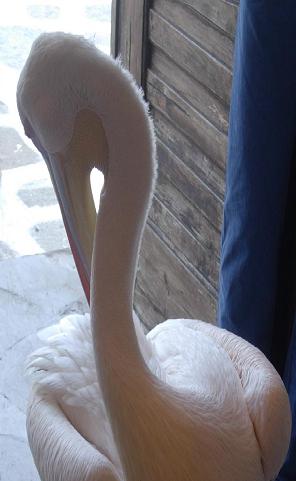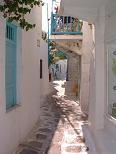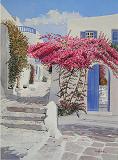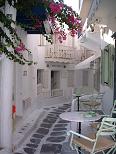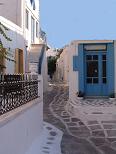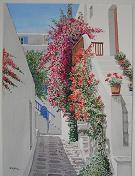 Hotels , Rooms To Stay, Bed and Breakfast :
If you want to wake up in front of the beach and take taxis into town at night, then there are plenty of accommodations Bed and Breakfast at many of the beaches in Mykonos: Platias Gialos, Ornos, Paradise Beach, Super Paradise, Agios Ioannis, etc. When you enter off the ferry boat there will be a crowd of people recruiting you for their accommodations Bed and Breakfast . It is nice to stay in Mykonos Town and take buses to the beaches when you wake up after a long night of partying. Many of the locals rent out rooms and little apartments and the prices range from 15 Euros to 100 Euros a night.
Myconos island
The beaches on the south shore of the island have the best sand, views, and wind protection, but these days are so popular that you'll have to negotiate a forest of beach umbrellas to find your square meter of sand. A few (Paradise, Super Paradise) are known as party beaches, and guarantee throbbing music and loud revelry until late at night. Others (Platis Yialos, Psarou, Ornos) are quieter and more popular with families. With all the south coast beaches, keep in mind that most people begin to arrive in the early afternoon, and you can avoid the worst of the crowds by going in the morning. The north coast beaches are less developed but just as beautiful. Since the buses and ca?ques don't yet make the trip, you'll have to rent a car or scooter; you'll be more than compensated for the trouble by the quiet and lack of commercial development.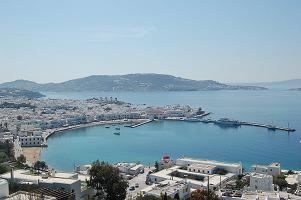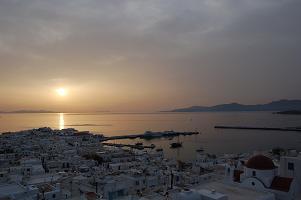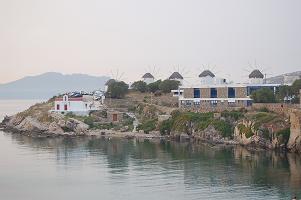 For those who can't wait to hit the beach, the closest to Mykonos town is Megali Ammos ("Big Sand"), about a 10-minute walk south--it's very crowded and not particularly scenic. The nearest to the north is 2 kilometers (1.2 miles) away at Tourlos, where a new cruise-ship pier was recently completed. Ornos, about 2 1/2 kilometers (1.6 miles) south of town, has a fine-sand beach in a sheltered bay with extensive hotel development along the shore; buses run hourly from the south station between 8am and 11pm. This beach is popular with families.

Platis Yialos is the best first stop: Although the beach is unexceptional and likely to be extremely crowded, from here you can catch a caique to the more distant beaches of Paradise, Super Paradise, Agrari, and Elia. The bus runs every 15 minutes from 8am to 8pm, then every 30 minutes until midnight. Nearby Psarou is less overwhelmed by resort hotels and has a lovely pale-sand beach that remains reasonably uncrowded except in high season. Its water-sports facilities include the Diving Center Psarou, waterskiing, and windsurfing. Paranga, further east, can be reached easily on foot via an inland path from Platis Yialos; this small cove is popular with nudists, and usually isn't too crowded.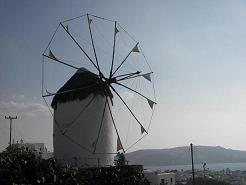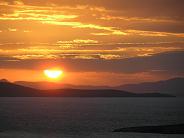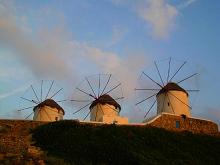 Paradise, the island's most famous beach, is accessible by footpath from Platis Yialos (about 2km/1.2 miles), by bus, or by caique. This was the original nude beach of the island, and still attracts many nudists. A stand of small trees provides some shade, and it's well protected from the predominant north winds. Several bars line the waterfront and pump out loud music throughout the day and night.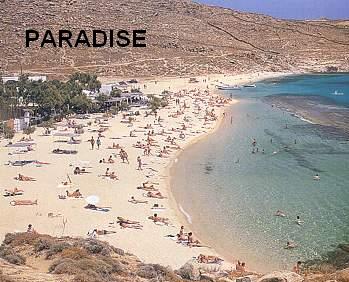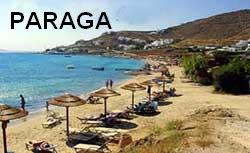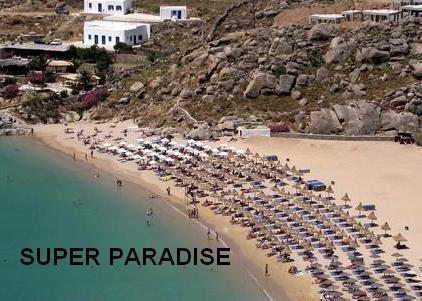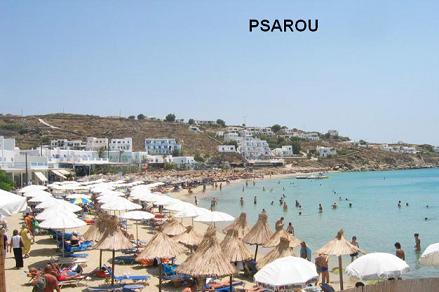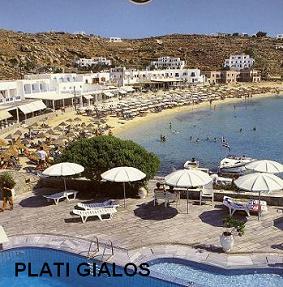 Super Paradise (Plindri) is in a rocky cove just around the headland from Paradise; it's somewhat less developed than its neighbor, but no less crowded. The beach is accessible on foot, by bus, and by boat if you go by car or moped, be very careful on the extremely steep and narrow access road. The left side of the beach is a nonstop party in summer, with loud music and dancing, while the right side is mostly nude and gay, with the exclusive Coco Club providing a relaxed ambience for its chic clientele. Further east across the little peninsula is Agrari, a lovely cove sheltered by lush foliage, with all states of dress common and a good little taverna.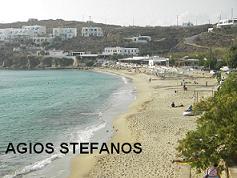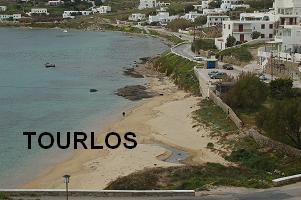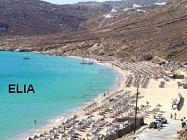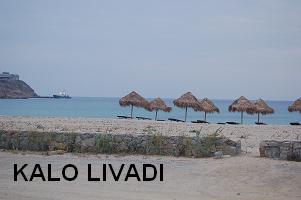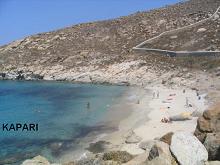 Elia, a 45-minute caique ride from Platis Yialos and the last regular stop, is a sand-and-pebble beach with crowds nearly as overwhelming as at Paradise and minimal shade. Nevertheless, this is a beautiful beach, and one of the longest on the island of Mikonos. It's also accessible by bus. The next major beach is Kalo Livadi ("Good Pasture"). In a farming valley, this long, beautiful beach is accessible by a scramble over the peninsula east from Elia and by bus from the north station. There's a taverna and a few villas and hotels on the hills adjacent to the beach.

The last resort area on the southern coast accessible by bus from the north station is at * Kalafatis. This fishing village was once the port of the ancient city of Mikonos, which dominated the little peninsula to the west. A line of trees separates the beach from the rows of buildings which have grown up along the road. This is one of the longest beaches on Mykonos, and less crowded than its neighbors to the west. Adjacent to Kalafatis in a tiny cove is lovely Ayia Anna, a short stretch of sand with a score of umbrellas. Several kilometers further east, accessible by a fairly good road from Kalafatis, is Lia, which has fine sand, clear water, bamboo wind breaks, and a small taverna.
Most of the north coast beaches are too windy to be of interest to anyone other than windsurfers - the long fine - sand beach at Ftelia would be one of the best on the island if it didn't receive the unbroken force of the north wind. There are, however, two well-sheltered northern beaches, and because you can only reach them by car or moped, they're much less crowded than the southern beaches. Head east from Mykonos-Mikonos town on the road to Ano Mera, turning left after 1 1/2 kilometers (0.9 miles) on the road to Ayios Sostis and Panormos. At Panormos, you'll find a cove with 100 meters of fine sand backed by low dunes but not a Bed and Breakfast accomadations. Another 1.2 kilometers (0.75 miles) down the road is * Ayios Sostis, a lovely small beach just below a village. There isn't any parking, so it's best to leave your vehicle along the main road and walk 200 meters down through the village. There's an excellent small taverna just up from the beach that operates without electricity, so it's open only during daylight hours. Both Panormos and Ayios Sostis have few amenities--no beach umbrellas, bars, or snack shops - but they do offer a break from the crowds.(mykonos greece, mykonos hotels, mykonos map, mykonos grand hotel, mykonos island, mykonos restaurant, mykonos weather, paradise beach mykonos, mykonos nightlife, gay mykonos, mykonos photos, mykonos accommodation, belvedere hotel mykonos, luxury hotels mykonos, club mykonos, apartments in mykonos, ferries from athens to mykonos, porto mykonos, hip hotels mykonos, mykonos airport, travel mykonos, mykonos grand hotel and resort, mykonos palace, mykonos rochester, petasos beach hotel mykonos, mykonos ferry, mykonos cafe, mykonos to santorini, ambassador hotel mykonos, santa marina mykonos, hotel argo mykonos, mykonos blu, mykonos villas, resort hotels mykonos, mykonos restaurant rochester ny, princess of mykonos, super paradise beach mykonos, mykonos town, ferry from mykonos to santorini, santa marina hotel mykonos, )